Triple Blood Balance

3 BOTTLES
1 BOTTLE
Optional: SUBSCRIBE & SAVE

YES!
I want to sign up for the
SUBSCRIBE & SAVE
and receive
up to a
discount today!
ADD TO CART

Stabilize the blood glucose levels with the Triple Blood Balance Formula. This quality product will ensure a normalized blood sugar levels and super healthy cholesterol levels. The formula has been perfected to suit everyone who seeks assistance for their blood glucose levels as this formula brings glucose levels to a constant and repeatedly promotes the production of natural energy as well as having a natural formula which decreases sugar cravings.


THIS IMPROVED FORMULA CONTAINS:
| | |
| --- | --- |
| | The medical preparation includes the extraction of the Juniper Berry, as well as the addition of essential oils. Juniper Berry seed actively battles to demolish digestion problems such as: upset stomach, intestinal gas, heartburn, bloating, and loss of appetite, as well as gastrointestinal infections and intestinal worms. |
| | White Mulberry is often associated with the treatment for diabetes. Additionally, treating high cholesterol levels, high blood pressure, the common cold and its symptoms, muscle and joint pain such as from arthritis, constipation, dizziness, ringing in the ears, hair loss, and premature graying. |
| | Commonly, the bark of the cinnamon tree is used to produce medicine. Cinnamon bark is exercised for gastrointestinal disorders. It is also used for stimulating appetite; for fighting infections caused by bacteria and parasitic worms; the common cold, and influenza. |
DIRECTIONS:


Engineered for adults, not suitable for children. One capsule to be taken daily preferably with food for maximized performance.


SAFETY INFORMATION:


Although Triple Blood Balance Formula has no reported side effects, we highly recommend those who experience chronic illness to consult their physician before taking any supplement.

PRODUCT DESCRIPTION:
The company Triple Naturals has engineered the perfect formula for those who seek stable blood sugar levels. The product has been formulated to assist the sugar regulation and reduce sugar cravings in a familiar and natural way. The ingredients have been selectively chosen after extensive research of products which positively contribute to stabilizing blood sugar levels, making this product a top choice for individuals wanting assistance with blood sugar control.
TRIPLE BLOOD BALANCE:

Supports healthy blood glucose levels.

Defends against Sugar Rush.

Amplifies a faster and a more standard metabolism.

Assembles an easier way to transfer oxygen.

The product has been processed with natural ingredients.

Manufactured in high standards.

Purity & Potency Guaranteed.

Proudly formed in the USA.

ADDITIONAL INFORMATION:

The product manufacturing process has taken a sufficient amount of time as the capsules were processed to have maximum performance with natural ingredients reducing the amount of chemicals that local supplements contain.
OTHER INGREDIENTS:
Bitter Melon(Fruit)
Licorice(Root)
Gymnema Sylvestre(Leaf)
Alpha Lipoic Acid
Banaba(Leaf)


Cayenne(Fruit)
Gelatin
Yarrow(Flowers)
L-Taurine

Magnesium stearate
Microcrystalline Cellulose
Rice flour
Silicone Dioxide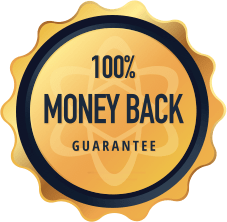 60-DAY BULLET-PROOF GUARANTEE
100% Money Back
After you order any of our Products today, if you are not completely satisfied, simply contact me within the next 60 days and send it back in any condition and I will see that you get a complete refund with no questions asked, no hassle whatsoever.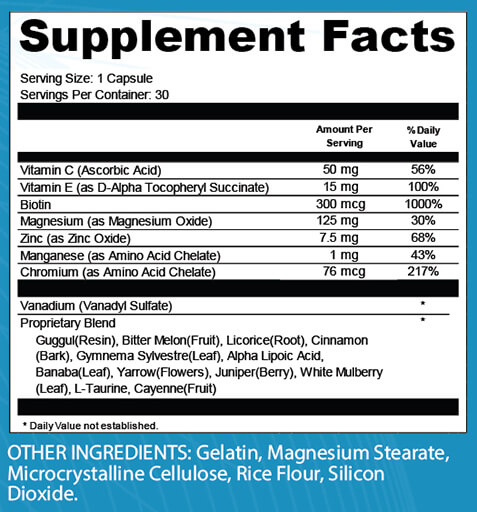 That's half a year to experience the amazing future you've been reading about.
If you are wondering why I am doing this, the answer is simple: I believe in these products so much, I am taking ALL THE RISK, so you can start living healthier today.
ADD TO CART
| | | | |
| --- | --- | --- | --- |
| 5 | | | (111) |
| 4 | | | (0) |
| 3 | | | (0) |
| 2 | | | (0) |
| 1 | | | (0) |