Triple Vision

3 BOTTLES
1 BOTTLE
Optional: SUBSCRIBE & SAVE

YES!
I want to sign up for the
SUBSCRIBE & SAVE
and receive
up to a
discount today!
ADD TO CART

All natural ingredients combined together work together to bring better and healthier vision. Triple vision: supports eye function, cardiovascular health, eye vitamin and mineral blend. Improves vision and promotes healthier sight with natural ingredients filled with minerals and nutrients.


THIS IMPROVED FORMULA CONTAINS:
| | |
| --- | --- |
| | Vitamin A plays a crucial role in vision by maintaining a clear cornea, which is the outside covering of your eye. Vitamin A keeps eyes moisturized and keeps tear ducts functioning. Vitamin A may also help protect against other eye difficulties. |
| | Lutein has several beneficial effects. Lutein commonly reduces the possibility of visual impairment. Lutein provides sufficient nutrition to keep eyes healthy and functioning. Lutein is a natural ingredient which is commonly found in greens and vegetables. |
| | Bilberries improve vision as they are rich in nutrients which are key to healthy vision. Bilberries are known to improve vision and reduce inflammation and improves visual and heart health. |
DIRECTIONS:
Take two capsules with water daily. Not suitable for children.
SAFETY INFORMATION:
Although Triple Vision has no reported side effects, we highly recommend those who experience chronic illness to consult their physician before taking any supplement.


PRODUCT DESCRIPTION:
Triple Vision supplement is rich with nutrients and natural ingredients which combine together to improve vision and support eye function. As well as improving visual health the supplement also has antioxidant and anti inflammatory properties which contribute to the engineering of the capsules.
TRIPLE VISION:

Improves and Supports healthy vision.

Made in the USA.

Sugar Free.

Cruelty Free.

Antibiotic Free.

Potency and Purity Guaranteed.

Rich in nutrients.

ADDITIONAL INFORMATION:

Triple Vision Formula contains ingredients clinically shown to support eye health in people with intermediate to advanced Age-Related Macular Degeneration (AMD)†. Triple Vision provide a wide spectrum of important ingredients shown to support eye health and vision, such as Lutein, Zinc, Vitamins A , and Taurine with no added beta-carotene.
OTHER INGREDIENTS:
Vitamin A
Zinc
Taurine


Grape seed
Quercetin
Bilberry


Lutein
Lycopene
N-Acetyl-Cystiene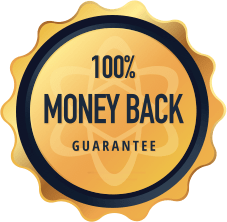 60-DAY BULLET-PROOF GUARANTEE
100% Money Back
After you order any of our Products today, if you are not completely satisfied, simply contact me within the next 60 days and send it back in any condition and I will see that you get a complete refund with no questions asked, no hassle whatsoever.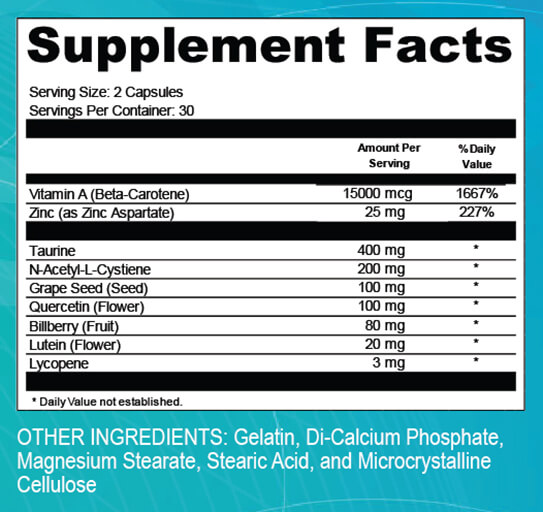 That's half a year to experience the amazing future you've been reading about.
If you are wondering why I am doing this, the answer is simple: I believe in these products so much, I am taking ALL THE RISK, so you can start living healthier today.
ADD TO CART
| | | | |
| --- | --- | --- | --- |
| 5 | | | (101) |
| 4 | | | (0) |
| 3 | | | (0) |
| 2 | | | (0) |
| 1 | | | (0) |