Triple Prosta Flow

3 BOTTLES
1 BOTTLE
Optional: SUBSCRIBE & SAVE

YES!
I want to sign up for the
SUBSCRIBE & SAVE
and receive
up to a
discount today!
ADD TO CART

Prostate cancer is the most commonly diagnosed form of cancer in men worldwide. Triple Prosta Flow has been engineered to treat prostate issues, improves urinary tract function, decreases inflammation, helps regulate testosterone levels and other ingredients present in the prostate support also help with other issues such as helping with lower cholesterol levels.


THIS IMPROVED FORMULA CONTAINS:
| | |
| --- | --- |
| | Saw Palmetto berries have uses such as improving prostate health, balancing hormone levels and preventing hair loss in men. It's also associated with other benefits, including decreased inflammation and improved urinary function. Saw Palmetto berries can assist in preventing prostate cancer from developing. |
| | Plant Sterols are used for some cancers such as prostate as this plant has properties which are used in aid with cancers. Plant sterols are also known to lower cholesterol. The sterols are a group of substances which are produced by a plant and the highest amount of Plant Sterols are found in foods like vegetable oils, nuts, and seeds. |
| | Pygeum Africanum is a tree and commonly the bark is used as medicine. Pygeum is used for treating prostate symptoms, it also contains chemicals that help shrink the prostate to relieve urinary problems such as poor urine flow and nighttime urination in men with enlarged prostates. |
DIRECTIONS:
As a dietary supplement, adults take two capsules daily.
SAFETY INFORMATION:
Although Triple Prosta Flow has no reported side effects, we highly recommend those who experience chronic illness to consult their physician before taking any supplement. For adult use only. Keep out of reach of children.


PRODUCT DESCRIPTION:
Triple Prosta Flow helps to develop a stronger bladder and urinary tract. This supplement helps reduce the size of the prostate in order to prevent a weak urine stream, it also helps prevent inflammatory effects. The Triple Prosta Flow has many pain relieving qualities, two capsules a day helps prevent inflammatory pain, strengthen the urine stream and reduce the size of the prostate.
TRIPLE PROSTA FLOW:

Helps keep the urine stream strong.

Relieve prostate cancer symptoms.

Made in the USA.

Manufactured in high standards.

Purity & Potency Guaranteed.

ADDITIONAL INFORMATION:

The prostate is a gland that's part of the male reproductive system and it's responsible for making most of the fluid in semen. While the early stages of prostate cancer may be asymptomatic, prostate problems are often accompanied by uncomfortable symptoms, such as: painful urination, the frequent urge to urinate, waking up in the middle of the night to urinate, painful ejaculation, erectile dysfunction, pain in the lower back, hips, or pelvic area.

OTHER INGREDIENTS:
Vitamin B6 (as Pyridoxine Hydrochloride)
Rice flour gelatin (bovine)
Silicon dioxide and vegetable
Magnesium
Stearate
Vitamin E ( as D-Alpha Tocopheryl Succinate)


Zinc (as zinc oxide)
Selenium (as Selenium Gluconate)
Copper (as Copper Amino Acid Chelate)
Red Raspberry (Fruit)
Annona Muricata( Leaf)
Green Tea(Leaf)

Cat's Claw(Bark)
Broccoli Leaf(Stems and Buds)
Tomato(Fruit)
Stinging Nettle(Leaf)
Maitake(Mushroom)
Reishi(Mushroom)
Shitake(Mushroom)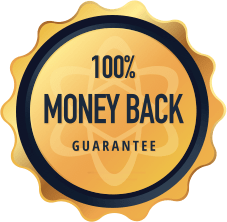 60-DAY BULLET-PROOF GUARANTEE
100% Money Back
After you order any of our Products today, if you are not completely satisfied, simply contact me within the next 60 days and send it back in any condition and I will see that you get a complete refund with no questions asked, no hassle whatsoever.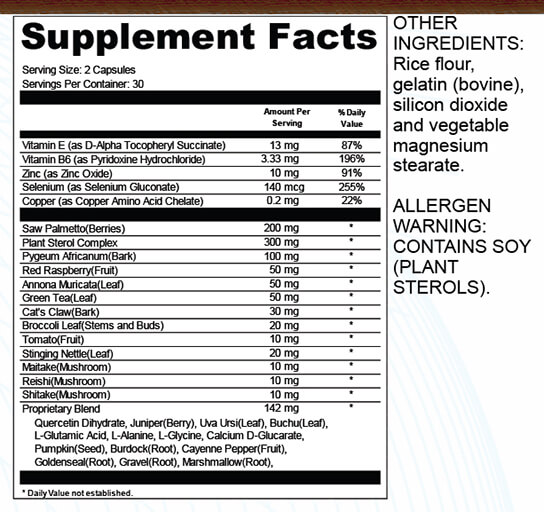 That's half a year to experience the amazing future you've been reading about.
If you are wondering why I am doing this, the answer is simple: I believe in these products so much, I am taking ALL THE RISK, so you can start living healthier today.
ADD TO CART
| | | | |
| --- | --- | --- | --- |
| 5 | | | (62) |
| 4 | | | (0) |
| 3 | | | (0) |
| 2 | | | (0) |
| 1 | | | (0) |