GrowTH Gummies
3 BOTTLES
1 BOTTLE
Optional: SUBSCRIBE & SAVE

YES!
I want to sign up for the
SUBSCRIBE & SAVE
and receive
up to a
discount today!
ADD TO CART
GrowTH Gummies is an extraordinary combination of a dietary supplement and a topical solution that is specially made to address the most common and unavoidable problem, which is hair fall. GrowTH Gummies destroys all the factors that are stopping your hair growth and makes your hair grow from the root. This concentrates both on hair growth and hair fall control. You no longer need to worry about your hair fall issue or try out shampoos and hair transplant treatments. GrowTH Gummies comes up with oral supplements and topical solution.


THIS IMPROVED FORMULA CONTAINS:
| | |
| --- | --- |
| | Biotin - is an essential micronutrient that's important for energy production and other functions in your body. Biotin supplements and shampoos are often promoted for improving hair health and regrowing lost hair. However, research suggests they're only effective in people whose hair problems were caused by a biotin deficiency. |
| | Vitamin A - The body's cells require a sufficient stock of vitamin A in order to grow. This of course includes the skin cells that form hair follicles. Vitamin A helps the skin produce an oil called sebum, which is the substance that keeps the scalp moisturized and healthy, allowing hair to grow. |
| | Zinc - plays an integral role in building and repairing hair tissues, ensuring that the oil glands around the follicles work seamlessly. A deficiency of this micronutrient often leads to hair loss and thinning. Zinc deficiency results in protein structure changes of hair follicles, weakening their integrity that leads to new hair falling out quicker than usual. |
DIRECTIONS:
As a dietary supplement, take ONE gummy of GrowTH Gummies daily.
SAFETY INFORMATION:
Although GrowTH Gummies has no reported side effects, we highly recommend those who experience severe headaches, irregular heartbeat, to consult their doctor before taking any supplement. For adult use only. Keep out of reach of children.


PRODUCT DESCRIPTION:
GrowTH Gummies is scientifically designed to help men retain and regrow their hair, and stop hair loss in its tracks. The active ingredients are all-natural DHT inhibitors. No harsh chemicals, no messy sprays, and no sexual side effects. GrowTH Gummies is the convenient solution to hair loss, available without a prescription. GrowTH Gummies is for men that are suffering from male pattern baldness, typically caused by excess DHT. GrowTH Gummies main course of action is to block the transformation of testosterone to DHT.
GrowTH GUMMIES:

Promotes a thick, full head of hair.

Produce Shinier, thicker hair.

Strengthens hair follicles.

Regulates scalp oiliness and sebum production.

Helps to stop the conversion of 5-alpha-reductase to DHT.

The product has been processed with natural ingredients.

Manufactured in high standards.

Purity & Potency Guaranteed.

Proudly formed in the USA.

ADDITIONAL INFORMATION:

We source ingredients exclusively from partners who share our rigor for quality, choosing ingredients that meet stringent requirements, such as: identity, purity, potency and bioavailability, so you can achieve the maximum benefits. Manufactured in the USA, in a GMP registered facility with the highest manufacturing and sourcing standards.

OTHER INGREDIENTS:
Vitamin C
Vitamin D3
Vitamin E
Vitamin B6
Folate


Vitamin B12
Pantothenic acid
Iodine
Sodium
Glucose syrup

Sugar
Glucose
Pectin
Citric acid
Sodium citrate

Natural raspberry favor
Vegetable oil
Natural blueberry favor
Titanium dioxide
Purple carrot juice concentrate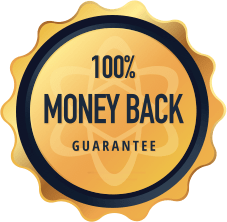 60-DAY BULLET-PROOF GUARANTEE
100% Money Back
After you order any of our Products today, if you are not completely satisfied, simply contact me within the next 60 days and send it back in any condition and I will see that you get a complete refund with no questions asked, no hassle whatsoever.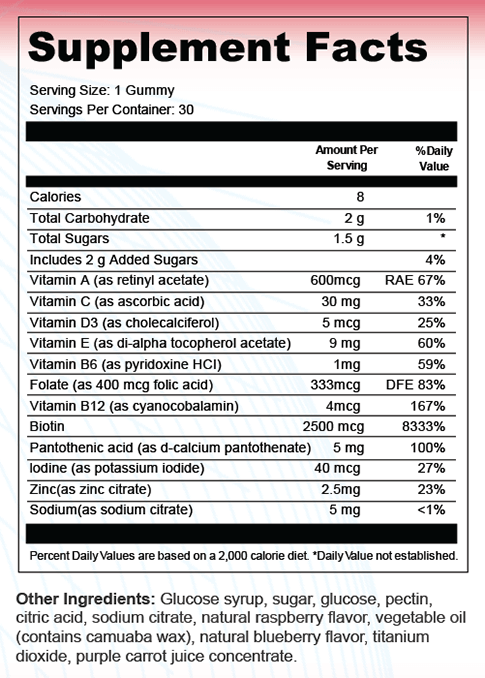 That's half a year to experience the amazing future you've been reading about.
If you are wondering why I am doing this, the answer is simple: I believe in these products so much, I am taking ALL THE RISK, so you can start living healthier today.
ADD TO CART
| | | | |
| --- | --- | --- | --- |
| 5 | | | (5) |
| 4 | | | (0) |
| 3 | | | (0) |
| 2 | | | (0) |
| 1 | | | (0) |